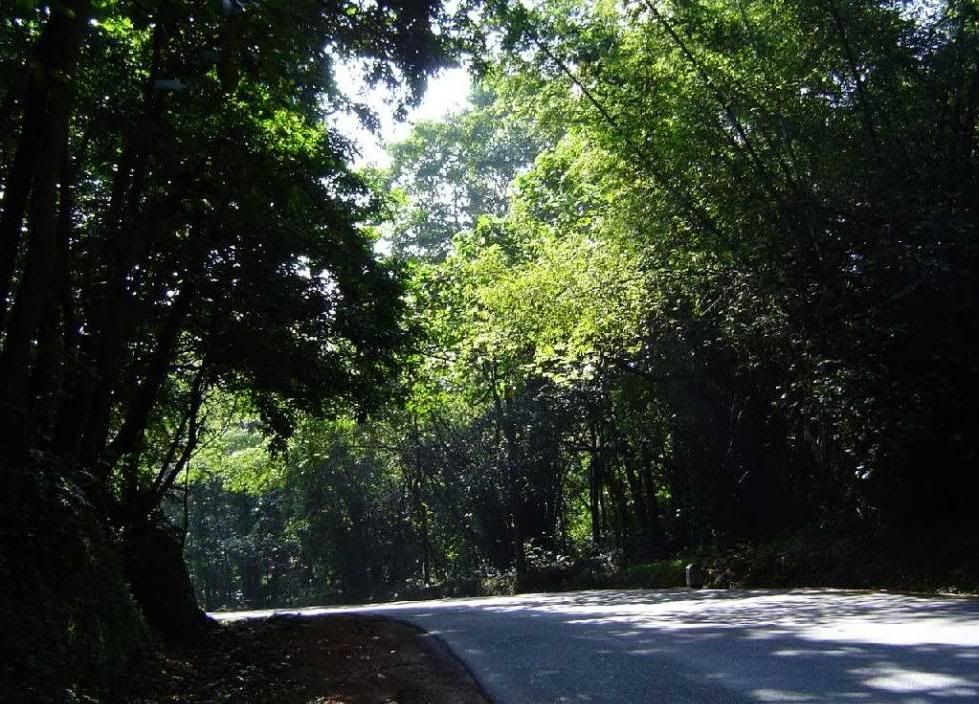 Where - Western Ghats

Total Distance - 1600 Kms. (Round trip)

Vehicles - 2 Kawasaki Bajaj Calibers (2000 model), 1 Hero Honda CBZ (2002 Model)

Total Expenditure - Rs. 12500/- (Rs. 1700/- per head)

Travel Duration - Aug 5 to Aug 11, 2003 (7 days)

Route Map - Nelamangala - Halebidu - Belur - Sakleshpura - Hanbal - Devrunda - Wajige - Kukke - Dharmastala - Agumbe - Shringeri - Koppa - Teerthahalli - Jog - Honnavar - Gokarna - Sirsi - Shimoga - Bhadravati - Tarikere - Tiptur - Tumkur - Bangalore
Travel Team - 6 members (start), 5 members (end)!!
Pilots - Nitin S. Bharadwaj, Retesh Gowda G., Sunil Kumar T.S., Raghuveeran K., Kiran C., Nirmal Kimar.(Returned Mid way)

Tour Diary:

Day 1:- Ahh!! What a thrilling start to our longest bike journey so far. Longest in terms of time, not distance though. Started off at Bangalore at 8 AM. 8:15 AM, pit stop for fuel. 8:45 AM, we are near Kunigal cross at nelamangala. Kiran is found changing to a loose Track pant against his ever tight jeans. 10 AM we are near A dhaba at yediyur. Too slow to start off. We eat our brunch and move off towards Hassan. Kiran takes Sunil's bike for a scary ride over and above the foot-path, back onto the road. Crash Lands safely. Nirmal is fear stricken already. Finish Belur and Halebid. Another scary incident for Retesh. Almost crashes into a moped who darted into the highway. Ate Masala Dosa at Sakleshpur and reached Retesh's uncle's farm house at 9 PM in Wajige. What a spooky Place.... BBrrrr!! But what pollution free..!! What calmness!! It is raining like hell now.!!
Day 2:- We wake up at 9 am. Retesh and I are only ones left to go to the forest for Loo. We go there, finish everything and comeback after bath. We have rice Rottis with great banana sambar. Then retesh finds his ass leaking blood!! Yes of course!! A deadly Leech monster!! We go for a trek in their plantations. Then we come back by 7 PM and have some great chilled beer. Some people also have rum and local liquor. End the day with good Omlettes and Bamboo Saaru. Amazing!!
Day 3:- We visit the local oora-devaru in a hill-top. Another amazing trek. Then we leave for Kukke by 1. We visit Tipu's Manzarabad Fort on the way. The Ghats were too good for our bike. With rain and water falls all along the road, our ears are clogged. We leave Kukke at 4.30 PM. The road is so dark. Amazing. We again top up our fuel tanks in a BP bunk. We reach a Mallu hotel on the cross from Gundya which forks to Dharmasthala and Mangalore. We eat parathas and some also get to feast on Fish. We are delayed and start off again at 7 PM. The rains begin to lash heavily and the roads are flooded. Not with rain water but with Pot-holes. We have a horrible time wading to Dharmastala. We book rooms and stay in the Nethravathi Guest House. We have a time in trying to find places where we can hang wet clothes.
Day 4:- We leave Dharmasthala after darshan. This time, Nirmal couldn't bear the fear of the dangerous drive we had on the way from Kukke to Dharmasthala. He takes a bus back to bangalore. We carry on and Sunil's bike dicky nut has fallen off. We take time off to get it repaired, 20 Kms from Dharmastala. We keep driving and reach the most amazing places of all. Agumbe ghats. We are required to cover a distance of 30 Kms. from one Forest Security post to the other in 1 Hour (For bikers). We drive through the thickest canopy sections of South Karnataka. We reach Shringeri by 4 PM. We leave there by 6 PM after a good walk. Take the Koppa route to Teerthahalli. We stop there in a Udupi Brahmin's hotel. Have lunch and retire in a lodge. Another chilled beer among 5 people.
Day 5:- We pack up and leave towards Jog Falls. Another drive through some bad roads. We are helped out by a Sumo who manages to take us through the roads, avoiding pot-holes to the maximum extent. At Sagar, we refuel again. We reach Jog by 12 PM. We enjoy there and leave there by 3 PM. Raghu and I quarrel like kids for Maggi Noodles. He's upset with the same. Next we leave towards Honnavar. At honnavar, raghu drops my dad's helmet and a furious me again blast upon him. His mood is totally down. Kiran has a near miss in the highway after a blazing truck almost brushed past him. Kiran's mistake. Then Sunil's bike is out with Electrical problems. Spark plug re-conditioned twice within 10 Kms. We manage to reach Gokarna. Sunil has a small doze of brandy as he feels cold. We have food and cool-drinks.
Day 6:- We bathe and take a visit in the temple before leaving to the beach for some fun. We are never daring to enter the shallow beaches. Somehow, we have some fun. We fill each one's undies with wet sand. Raghu falls down in a huge wave, hurts his own ass. We pack our baggage and leave. 1 Km away, Sunil's bike is back in Electrical problems. This time we make sure the repair will hold off till Bangalore. We somehow reach Shimoga before Sunil's dicky screws fall off. We eat Bonda Bajji in the cold for Rs. 15/- each. Raghu develops an aversion towards Braking!! We halt in Bhadravathi after 3/5 riders are out tired.
Day 7:- We leave for Bangalore at 10 AM and reach Bangalore by 4 PM.
That was really tiring. Tiring not only physically, but also mentally. All that adrenaline, all the excitement certainly had the heart beat like hell. But this was a week of damn good memories. And also great experience of riding. 5/7 days, we were in the thick of the rains and that certainly improved our riding abilities.
Next Trip: Kurigavlu (Malavalli, Mandya)
Try This: Manavanaagi Huttidamele Yenyen kandee?? (Annavara haadu)