A

t last, we are in 2006. Hope this year is a lot brighter than 2005. I am, in this post, putting up a few good welcomes for me in 2006. I think, so far I have been enjoying this New Year.
Let me start off with a Pic of Agumbe: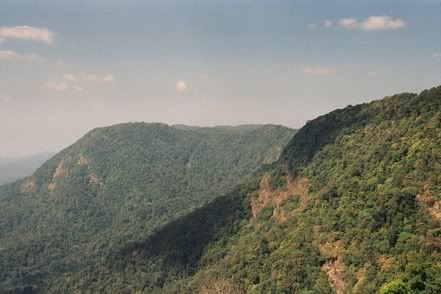 First good thing about 2006. My cousin who was in the US, Akshay, is back to Bangy. It was quite some time since I saw him and this was quite a relief. I am out of College, working and he is visiting me.
Second good news. Intel has a lot of movement going on. This strange hustle has landed me a new deal. And guess what, I have one of those managers whom I've been knowing since early 2005. While many a things around me are changing, now after the whole drama, it looks like I am firmly holding station. Atleast for now. And I get to work in LINUX. My Favorite news of the Year!!!!
Thirdly, I happened to have a very badly needed break in 6 months now during New Year's eve. I was on a really fascinating drive to Mangalore-Manipal-Agumbe. And I think Manipal is a very happening place like Bangalore. But hey, discount all the technology there. Don't even think about comparing Bangy freaks with Manipal medics. They're no where. No good audio systems on cars, no good eat-outs, no dust/pollution like Bangy and more-over, nothing so IT oriented. I'd say Manipal is worth a week's vacation at the max.
Next off, I will get to eat some good food, thanks to Akshay. He is a good food freak. He has promised me some good food while he is here. And more-over, I'll get to eat his engagement food. Yeah!! Thatz right. He's getting engaged.
Finally, Looks like I'm back to my good old blogging days. Well!! I'm sorry but Bangy had put me into so much of concerns with its rotting weather that I had totally forgotten blogging. Nowadays, Bangy is no good either. The cold SUCKS!! Or rather BITES!!! But it is a lot better off now. At least it is DRY!!
So, Enjoy 2006. Happy and Prosperous New Year to You All...
Listen to This: Aagumbeyaa...Premasanjaya (Dr. Rajkumar)